In 1948, a little prayer mission was organized in the East Houston community of Fidelity by three spirit-filled women, Missionary Frankie Sherrard, Mother Ada White, and Missionary Mable Anderson. Services were being held in the home of Missionary White, but these women fasted and prayed for God to send them a spirit-led Shepherd.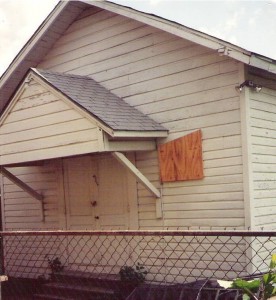 In 1949, these missionaries were led to call on a preacher by the name of Elder John Paul Ellis to come and help them establish a church, with him as their leader. Elder Ellis answered the call, became their pastor, and thus, St. Paul Temple Church of God in Christ was born. They continued to fast and pray and worked to purchase property from a Mr. Mason and the church was eventually moved from Missionary White's home to a tent erected at 412 Massachusetts Street. In the early 1950's, a storm blew the tent down; subsequently, Elder Ellis along with his wife, Mother Rosie Dell Ellis and the missionaries, worked diligently to build a small wooden church. Souls were saved, families were added, and God blessed the church with ministers, missionaries, deacons, and conscientious and dutiful church workers. During the church's early years, Pastor Ellis also mentored two brothers in the congregation, Elder Frank James Sherrard, Sr. and Elder William H. Sherrard, Sr. who were sons of one of our founders Missionary Frankie Sherrard, and who eventually became pastors themselves.
Elder Ellis still had a dream to build an even bigger and better sanctuary for the Lord. With many prayers and hard work, in 1964 the Lord saw fit to let his dream become a reality. Even though the membership was still growing, St. Paul Temple Church of God in Christ was the first all brick church built in the Fidelity community, and the little wooden church then became the cafeteria and fellowship hall.
.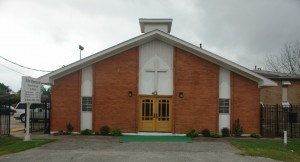 As the church continued to grow, and more souls were saved, Pastor Ellis shared his plan and purpose with the congregation for purchasing land adjacent to the church in order to expand the church's facilities. God made a way for the church to purchase the land and it was developed and made into a much needed fenced parking lot. Renovations were also made to the cafeteria and fellowship hall. Elder Ellis continued the work that God had given him and devised a plan to pay off the church's mortgage. Every fourth Sunday in October was designated as "Rally Day". God continued to bless, the mortgage was paid off, and this day is still celebrated on the fourth Sunday in October, and allows current and former members, friends, and family to come and fellowship together. We now celebrate it as "Founders Day".
On the night of May 4, 1983, Elder Ellis called a meeting with the congregation to discuss his resignation as pastor of St. Paul Temple after 34 years, because of his failing health. Pastor Ellis shared that he had been led by the Spirit of God to choose his assistant, Elder Frank James Sherrard, Sr. as his successor. It was a very calm and peaceful meeting, the entire congregation discussed and voted unanimously that Elder Sherrard would assume the duties as Pastor.
God called Elder Ellis home on April 26, 1984 and Elder Frank James Sherrard, Sr. was officially installed as pastor by Bishop T. D. Iglehart of the Texas Southwest Jurisdiction. After Elder Sherrard was installed, he shared with the congregation his desire to change the church's name to Ellis Memorial Church of God in Christ, in honor of our builder and founder. Pastor Sherrard came with a new sense of dedication and brought revival to the congregation. Under Pastor Sherrard's leadership, the church experienced growth and was blessed spiritually and naturally under his teaching and preaching. Pastor Sherrard oversaw the purchase of additional properties for church expansion, paving and lighting the parking lots, refurbishing the sanctuary, building a new fellowship hall, purchasing new instruments, choir robes, and a church van. Since it was Pastor Sherrard's desire that the church be debt-free, all of these things were done on a cash basis. Pastor Sherrard also continued to build upon the legacy left by Elder Ellis through his preaching and teaching of the Gospel. His primary concern was for souls to be added to God's Kingdom. Due to his failing health, on May 23, 2002, Elder Sherrard officially retired as pastor of Ellis Memorial Church of God in Christ, and was bestowed the title of Pastor Emeritus by Bishop N. H. Henderson, Presiding Bishop of the Texas South Central Jurisdiction of the Churches of God in Christ. As Elder Ellis had done before him, Pastor Sherrard turned the church over into the capable hands of his assistant, Dr. Morris O. Jenkins, Jr. God called Elder Sherrard home on June 23, 2006.
Under Pastor Jenkins' leadership, the church has continued its growth spiritually and naturally. "The Haven of Hope" was added to the church's name as a way of identifying his vision for the church and identifying it as a church which provides a loving and caring environment for believers as well as non-believers, a place where people from diverse backgrounds are welcome, and where members can grow and reach their full potential in the church as well as outside the church. Souls are being added continuously. Pastor Jenkins has instituted new programs and community events and enhanced existing programs, such as a Senior Citizens Day, a Community Health Fair, Socks for Kids and School Supplies for needy children, tutorial programs, a nursing home visitation and sponsorship, distribution of food baskets to needy families during the Thanksgiving and Christmas holidays, an annual Greater Harvest Banquet, and is currently coordinating other events and programs which will be beneficial to the church and community. In the aftermath of Hurricane Ike in the Gulf Coast Area in September 2008, Ellis Memorial was instrumental in distributing food, water, and ice throughout the community. Even as the power outages continued, a week after the storm Ellis Memorial served over 400 hot meals to residents in the community. Our goal is to be a beacon light to the lost souls of the Fidelity and surrounding communities.
After every Sunday service, free meals are prepared for the congregation, and residents of the community are welcomed and also served free meals. A thriving Media Ministry has evolved which allows church services and other events to be broadcast on the worldwide web and archived on DVD and CD. The church has purchased several additional vans to enhance and extend its bus ministry. Also, the church has acquired additional property and is in the process of acquiring other properties to expand its current facilities and ministries. Pastor Jenkins's ultimate goal and vision for the church is to win souls for Christ and to build the kingdom of God.
Ellis Memorial continues to be blessed both spiritually and materially under Pastor Jenkins' leadership.
For every age God has placed a man to stand watch. We can truly say that we have been led through the years by the spirit of God.