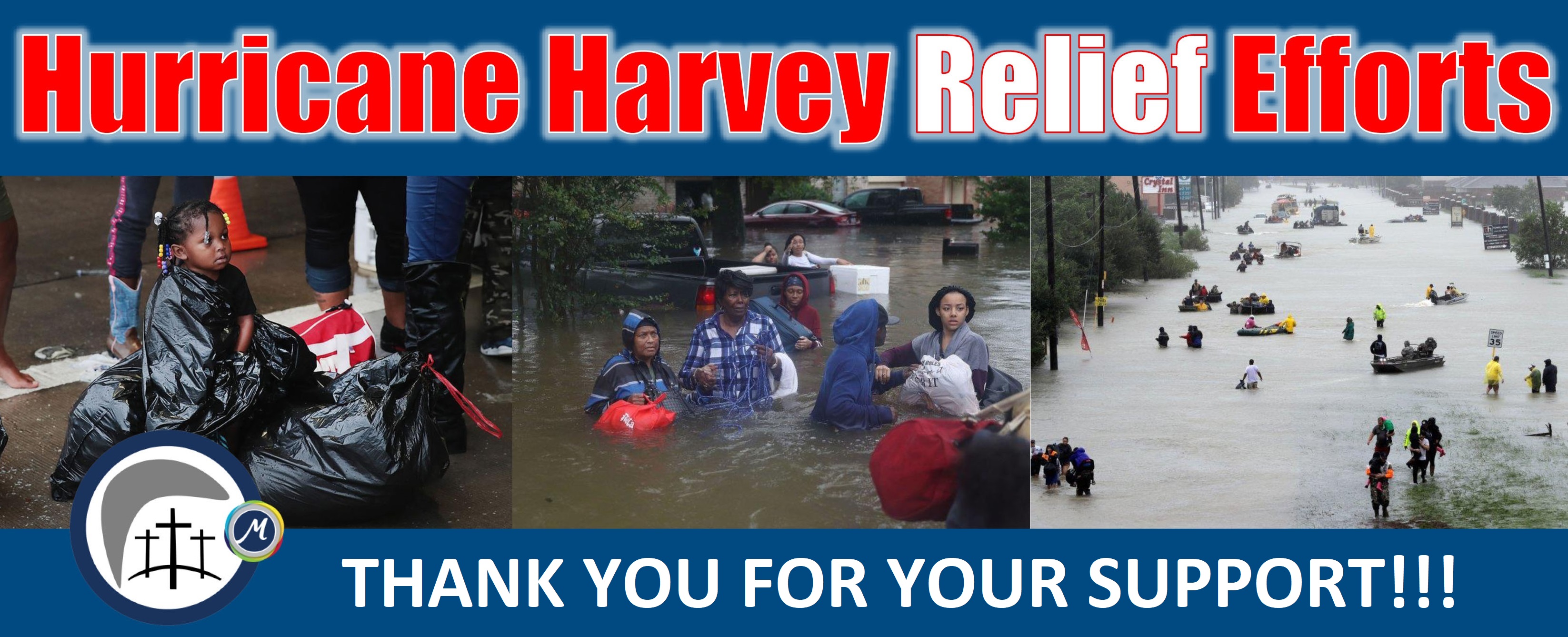 HURRICANE HARVEY
Due to Hurricane Harvey, in a four-day period, many areas received more than 40 inches of rain as the system meandered over eastern Texas and with its peak accumulations of 51.88 inches, Harvey is the wettest tropical cyclone on record in the contiguous United States. The resulting floods prompted more than 15,000 rescues, displaced more than 32,000 people, and inundated hundreds of thousands of homes. Throughout Texas, more than 300,000 people were left without electricity and billions of dollars of property damage was sustained. Catastrophic inland flooding is ongoing in the Greater Houston area. Preliminary estimates of economic losses range from $30 billion to $100 billion, with a large portion of losses sustained by uninsured homeowners.
About 10,000 people are estimated to be in Houston shelters. About 5,000 were expected to be in the Houston Convention Center.
The Coast Guard is continuing to receive upwards of 1,000 calls per hour," US Coast Guard Lt. Mike Hart said Monday. "Today alone, the Coast Guard has rescued over 3,000 people. That includes both air rescues and rescues using boats.
FEMA Administrator Brock Long said. "Texas has never seen an event like this, Harvey will require one of the largest recovery housing efforts the nation has ever seen."
HURRICANE HARVEY RELIEF SUPPLIES
These are the following items that are be needed to help restore and maintain daily life as normal as possible:
Clorox in Surplus (Molded Situations in homes)
Cleaning Supplies [Pine Sol, Washing Powder, Dish Detergent, Pine o Pine, Fabuloso, Ajax/Comet, Scrubbing Bubbles, more Bleach, etc.]
Toilet Paper
Paper Towels
Garbage Bags
Baby Wipes
Diapers [All sizes Newborn-Adults]
Baby Formula [Preferably Simalac & Enfamil]
Jar Baby Food and/or Baby Food
Water [Plenty of it]
Bedding [Sheets, Pillow Cases, and Blankets]
Towels
Toiletries [Deodorant, Body Wash, Soap, Feminine Products, Razors, Toothpaste and Toothbrushes]
Clothing & Shoes [All sizes from Newborn-Adults for both sexes]