Sis. Edna Bell Sherrard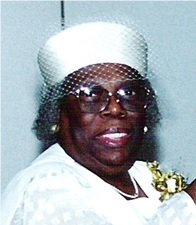 Sis. Edna Bell Sherrard, wife of Pastor Frank James Sherrard, Sr., was a strong woman. It was often said that Elder Sherrard talked enough for the both of them. Sis. Sherrard, however, was a quiet woman and went about her business without much fanfare. She had her own way of speaking and dealing with people in a kind and loving way.
Edna Bell Phillips was born in St. Martinsville, Louisiana on February 13, 1927. Her family subsequently moved to Port Arthur, Texas where she attended public school until the age of 11. Her mother passed away, and she moved to Houston, Texas where she was raised by her beloved aunt, Anna Ned Jenkins. This was to be a turning point in her life. After coming to Houston, she attended church with her aunt at Buck Street Church of God in Christ where she was to meet her future husband and her mother-in-law, Missionary Frankie Sherrard, who was very influential in her life. On March 12, 1946, at the age of 19, she married her sweetheart, Frank James Sherrard. They had seven children, two of whom preceded them in death.
Missionary Frankie Sherrard was one of the founding members of St. Paul Temple. Sis. Edna Sherrard followed her mother-in-law very close, and she ultimately became one of the church's first members. She was often seen with Missionary Frankie Sherrard and was believed by many to be her daughter. She had a very special relationship with her mother-in-law and always called her "mother". Sister Sherrard was saved and dedicated her life to Christ, and worked diligently at St. Paul Temple Church of God in Christ (now Ellis Memorial Church of God in Christ) where the late Elder John Paul Ellis was the pastor and founder. For many years she was the church secretary, taught Sunday School, and worked with the Sunshine and Purity Band. She was President of the Mission and Bible Band. She raised her children in the fear and admonition of the Lord and made sure that they participated in every church program. Also while working in her local church, she worked for many years with the Young Women's Christian Counsel (YWCC) in the Eastside Houston District and was secretary to the District Missionary. She supported the work of the Women's departments of her church, District, and State jurisdiction.
When her husband was appointed to pastor at Gospel Temple Church of God in Christ in LaMarque, Texas, in 1974, she worked alongside him to build the church, its membership, and ministry in the community all the while raising her three youngest children. God blessed them spiritually and naturally and they were able to educate their children. In 1984, Elder Sherrard was called by his Pastor, Elder John Paul Ellis, to come back to Houston to Pastor at St. Paul Temple because of his failing health. Elder and Sis. Sherrard began their pastoral ministry at Ellis Memorial in 1984. Again, Sis. Sherrard work diligently alongside her husband in the ministry and was an example and teacher to the young women. She always gave of her means to help the young women and mothers. She gave them sound, spiritual teaching and advice. She served as the Mission President until her health began to fail.
The Sherrard's home was often the meeting place for family members and friends of their children and grandchildren. Sister Sherrard was known as a great cook and pastry maker and often cooked large meals for their ever-growing extended family, especially on holidays. She was also an accomplished seamstress who sewed many of her own clothes as well as her children's and other family members. She unselfishly put others before herself and made everyone welcome in her home. She dearly loved her husband and children and made sure they had a warm and loving home. She always had compassion for other people and often assisted them in any way she could. She was affectionately called Sweetie or Sweetheart by her husband, Doll or Girl by her children, Granny or Grandmother by her grandchildren, and Aunt Edna Bell by her many nieces and nephews. God blessed her to touch many lives.
Elder and Sis. Sherrard had been married for over 60 years when the Lord called Elder Sherrard home on June 23, 2006. Sis. Edna Sherrard soon followed him on October 3, 2006. She still serves as an example to the women of Ellis Memorial.